Keeping you safe
At Allen & Forey Cars our customer's safety and comfort will always come before anything else, so whilst we all hope we may now finally be emerging from the Covid-19 Pandemic, we completely understand if any of our customers wish to still adhere to any of the social distancing measures put in place over the last few years and will always be happy to wear a mask during any test drives we carry out with you if you so wish. If you have your own then you are welcome to bring them with you to the appointment, or alternatively, we will continue to have disposable ones available for your use as well as hand sanitiser if you require. We are also happy to conduct all dealings outside of our office if requested. If you have any other concerns or questions about anything to do with our social distancing measures, then please get in contact and we'll be happy to help in any way we can.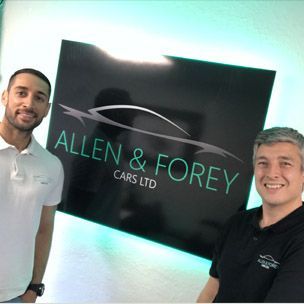 What We Do
When we started Allen & Forey Cars our aim was simple; To provide the best cars at the best prices, combined with the best customer service. 5 Years on and our ethos remains exactly the same. The only difference now being that we have scores of reviews from our wonderful customers from over the years to back up our vision and to prove that this transcends into how we operate our business each and every day.
Please feel free to take a look at what our customers think of us at;
https://uk.trustpilot.com/review/allenandforeycars.co.uk
and
https://www.autotrader.co.uk/dealers/buckinghamshire/chalfont-st-giles/allen-forey-cars-ltd-10019761?channel=cars#
As we are a business that works on an appointment basis please feel free to call at any time even outside of work hours if you would like to discuss one of the cars you have seen on our website and/or to book an appointment to come in for a viewing and a test-drive.
Kind regards,
Ian & Russell